A new Zombie becomes final challenge for The Hukilau villagers



Upon completion of The Hukilau, villagers had one Final Destination: the "Hereafter Party at Death or Gory in Hellray Beach." To bring the theme full circle, The Atomic Grog presents a Zombie to end all Zombies.
>>> Event overview | Photos, recap
RECIPE: The Final (Destination) Zombie
The Mutiny is a worthy foe in the battle of the tropical titans



A companion to the Black Magic, this tropical drink created by Mariano Licudine is a classic in its own right.
>>> See the history, review and recipes
NEW: Tribute to The Mai-Kai's Mutiny, version 3.0
VIDEO: The Mutiny on Spike's Breezeway Cocktail Hour
Take a trip down the Tiki Trail for a lethal new Zombie recipe


It was a honor mixing up an original cocktail on the longest-running weekly online gathering of Tiki enthusiasts.
>>> Check out and order the special merchandise featuring new Zombie artwork
RECIPE: Tiki Trail Zombie from The Atomic Grog
The Atomic Grog 10th anniversary: Beware! Deadly Zombies ahead



After 10 years and more than 1 million page views, we take a look back at the blog's best posts and most popular cocktails. A special anniversary Zombie kicks off 10 months of deliciously dangerous drinks.
>>> RECAP: A decade of The Atomic Grog
>>> Tiki Top 10: Most popular blogs | More blog posts worth reading
Most popular cocktails | More drinks worth trying
RECIPE: Revenge of the Atomic Zombie Cocktail
Okole Maluna Society: The Mai-Kai Cocktail Guide



Hurricane Hayward reviews and rates the historic restaurant's current and past tropical drinks, plus reveals a treasure trove of ancestor and exclusive tribute recipes.
>>> A DEEP DIVE INTO THE COCKTAILS OF THE MAI-KAI
>>> List of all 100+ recipes
Mai-Kai cocktail review: The Black Magic emerges from the darkness as a true classic



Inspired by one of The Mai-Kai's Gallons To Go, we've mixed up a new version of this classic Tiki cocktail.
>>> See the full story
The Atomic Grog on Spike's Breezeway Cocktail Hour
Mai-Kai cocktail review: Jet Pilot soars over its ancestors with flying colors



This latest and greatest version of The Mai-Kai's Jet Pilot should be approached with caution. It's big, bold and bad to the bone. See the full story
>>> The Atomic Grog serves the Jet Pilot on Tiki Trail Live

The Atomic Grog joins The Trader Brandon Transmissions


VIDEO, RECIPE: Watch the live interview, see the new Barrel O' Rum recipe
>>> Check out our Tiki Tuesday chat with Brandon Kleyla on his Instagram page
Hurricane Hayward on Inside the Desert Oasis Room



Listen to the "Covid Chronicles" episode recorded live with Adrian Eustaquio as The Atomic Grog blogger made his way to The Mai-Kai to pick up Gallons to Go.
VIDEO & PHOTOS: Skinny Jimmy Stingray talks classic surf, performs at The Mai-Kai


South Florida's Skinny Jimmy Stingray and his band rocked The Molokai bar during a special Retro Rekindled monthly community gathering at The Mai-Kai in Fort Lauderdale. The live set followed a presentation with The Atomic Grog's Hurricane Hayward about the guitarist's musical journey from punk to instrumental surf.
>>>> See new video and photos from the event
The Atomic Grog presents new class and symposium at The Hukilau 2019



Hurricane Hayward of The Atomic Grog took guests on an virtual journey to the Caribbean to learn about the key rums and styles that have dominated The Mai-Kaiís acclaimed cocktails for more than 60 years. He was joined by rum expert Stephen Remsberg for an Okole Maluna Cocktail Academy class at Pier Sixty-Six hotel, and by Cocktail Wonk writer Matt Pietrek for an on-stage symposium at The Mai-Kai Grand Finale.
>>> Hear The Mai-Kai symposium on the Inside the Desert Oasis Room podcast
>>> See the full preview plus 2018 event recap and photos
The Mai-Kai Walking Tour on Marooned: A Texas Tiki Podcast


It was an honor to participate in The Mai-Kai history tour with carver Will Anders and manager Kern Mattei. Itís a real Tiki museum audio walking tour. CLICK HERE TO HEAR THE PODCAST
Special event: 'Demerara Rum - The Mai-Kai's Secret Weapon'


The Atomic Grog was pleased to present a special happy-hour talk during The Mai-Kai Takeover event
on Jan. 19, presented by the Magical Tiki Meet-Up and Retro Rekindled.
>>> Full event recap, including photos and highlights of our Demerara rum discussion
The Atomic Grog on Marooned: A Texas Tiki Podcast

Listen to Hurricane Hayward and Texas Tiki and cocktail podcaster David Phantomatic in the Samoa Room at The Mai-Kai as they discuss (what else) the historic tropical drinks and influence of South Florida's Polynesian Palace.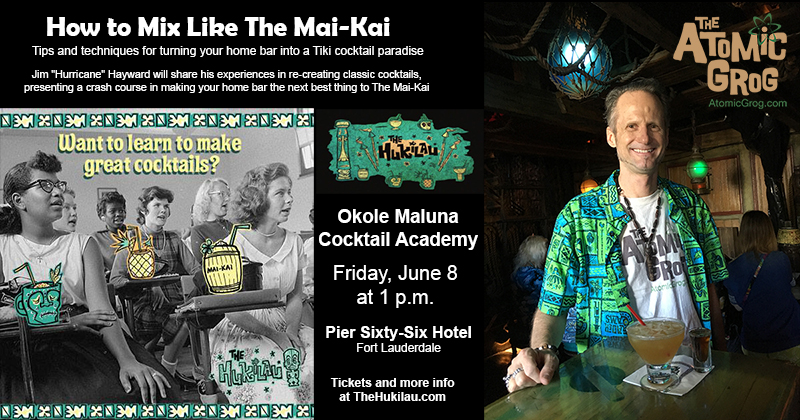 Sold out! How to Mix Like The Mai-Kai: I'm humbled and honored to have the first
Okole Maluna Cocktail Academy class to sell out at The Hukilau 2018 in June!
>>> See the event photos

Hurricane Hayward at The Mai-Kai's 60th annversary celebration in December 2016 in Fort Lauderdale.
>>> See the full coverage on the blog