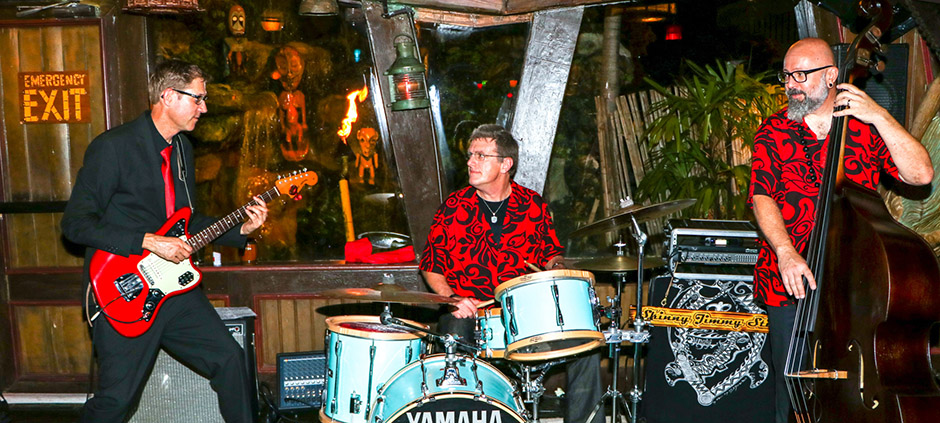 BAND BIO
Skinny Jimmy - Guitar
Frenchy - Bass
Kevin - Drums
For more than 10 years, Skinny Jimmy Stingray has been on a mission to bring the powerful stripped-down sound of surf guitar to the masses. His repertoire includes his own original instrumentals, plus many classics from the golden age of surf guitar. Based in South Florida, Skinny Jimmy has performed at major clubs and events across the state, including the long-running Tiki weekender The Hukilau in Fort Lauderdale.
Skinny Jimmy has shared the stage with legends of surf including Dick Dale, The Surfaris and Los Straitjackets. His influences include Link Wray, The Ventures, Duane Eddy and many other artists who shaped the original sound of instrumental surf.
Currently performing as a three-piece with bass and drums, Jimmy and his band cover a wide spectrum of instrumental music genres - from rockabilly to spaghetti western to sci-fi and secret agent. To find the band's latest gigs, music and videos plus more, click on the links below and on the SkinnyJimmyStingray.com homepage.
LINKS
SOCIAL MEDIA
Facebook | Instagram
MUSIC & VIDEO:
Stream and download songs: Bandcamp
Videos and streaming music:
YouTube| ReverbNation
MEDIA:
Download official press photo
CONTACT JIMMY
Email:
SkinnyJimmyStingray@Yahoo.com
Facebook message:
Jimmy's personal page