2017

Aug. 19
Authority Zero, The Supervillains, The No Name Ska Band, Riot Agents, Jon Gazi
April 18
Pears, Armageddon Man, Whiskey Walls, Between Enemies [Flier]

2016

April 21
Big D and the Kids Table, The Snails, The Sensibles, Sandwich Club [Flier]

2015

March 19
Agnostic Front, Coldside, Die Trying, Homestretch [Flier]
April 3
Teenage Bottlerocket, The Pears, The Howling Winds, Sandratz [Flier]
May 15
Strung Out, Red City Radio, La Armada, Break the Hero [Flier]
April 3
The Business, The Attack, Armageddon Man, Martial Prowess [Flier]
July 31
Authority Zero, Counterpunch, Rubedo, Break the Hero

2014

Feb. 1
Nekromantix, Twisted In Graves, Koffin Varnish, Coon Doggin Outlaws [Flier]
Oct. 22
Authority Zero, The Bastard Suns, Break the Hero, The Prescription
Nov. 13
Sick Of It All, Negative Approach, Guilty Conscience, Rubbish [Flier]

2013

Jan. 4
The Adolescents, Youth Brigade, The Vices, Unit Six, Riot Agents [Flier]
Feb. 22
The Queers, Teenage Bottlerocket, Masked Intruder, Pool Party [Flier]
April 25
Dick Dale, Gold Dust Lounge, Skinny Jimmy & the Stingrays [Flier]
April 27
Agnostic Front, Coldside, Old Habits, Die Trying [Flier]
July 19
Laramie Dean & Jimmy Dale, Pool Party, Skinny Jimmy & the Stingrays, Hardship Anchors, Sandrats [Flier]
Oct. 12
Voodoo Glow Skulls, The Toasters, Left Alone, Dodge City Bandits, The Ruins [Flier]
Nov. 20
Swingin' Utters, Blacklist Royals, Unit Six, Everymen [Flier]
Nov. 29
The Business, The Rawtones, Die Trying, Askultura [Flier]

2012

Feb. 18
Voodoo Glow Skulls, Authority Zero, Skyfox, The Hard Richards [Flier]
March 8
The Casualties, Toxic Holocaust, Unit Six, VCR, DarKarma, Sadistic Death [Flier]
March 16
The Business, Downtown Struts, The Shakers, Out of Sorts [Flier]
April 21
Dick Dale, Cutback, Skinny Jimmy and the Stingrays [Flier]
April 22
Dick Dale, Charlie Pickett, Skinny Jimmy and the Stingrays, Enough, Turboretardo [Flier]
Sept. 21
The Ataris Flatfoot 56, Red City Radio, The Ruins [Flier]
Oct 19
The Toasters, The Hard Richards, Good Shepard [Flier]

2011

Jan. 7
The Adolescents, Lower Class Brats, Angry Pudding, The Clockouts [Flier]
Jan. 15
The Queers, The Apers, Riot Agents, Askultura [Flier]
Feb. 11
Walter Lure, Charlie Pickett, The Shakers, The Martyrs, F.F.N. [Flier]
June 12
Dick Dale, Laramie Dean, To Be Hated [Video, review, flier, more]
June 13
Dick Dale, Laramie Dean, Gutter Queens [Video, review, flier, more]
Aug. 13
The Chant, Charlie Pickett, Mr. Entertainment, Boise Bob, Brain Chips, Moon Under Water, Fuck Yeah [Flier]
Sept. 5
Nekromantix, The Howlers, Brain Chips [Flier]
Sept. 6
Guttermouth, The New Threat, Here's To Nathan, Jolly Badfellow [Flier]
Sept. 9
The Cute Lepers, Something Fierce, Low Visibility, The 707's [Flier]
Oct. 27
Youth Brigade, The Meatmen, To Be Hated, The Ruins [Flier]
Nov. 15
Agnostic Front, The Mongoloids, Naysayer, Nobody's Hero [Flier]
Nov. 18
The Queers, Knockout, Caffiends, The Merkins [Flier]

2010

March 20
Slammie Wedding Bash featuring The Holy Terrors, Charlie Pickett, The Freakin' Hott and Trailer Shark [Flier]
May 14
Agnostic Front, Outbreak, Nobody's Hero, Trust No One [Flier]
July 20
Nekromantix, The Mutilators, The Howlers, The Wreckenstein Brawlers [Flier]
Aug. 15
Guttermouth, The New Threat, Last Laugh, The Shakers [Flier]
Oct. 31
Strike Anywhere, The Flatliners, The Snips, Last Laugh [Flier]

2009

Feb. 5
Agnostic Front, The Mongoloids, Mehkago N.T., La Vieja Guardia [Flier]
May 28
The Business, Flatfoot 56, Howitzer, Nobody's Hero, To Be Hated [Flier]
June 11-13
The Hukilau featuring Los Straitjackets, The Intoxicators, Haole Kats, The Van Orsdels

Aug. 16
Guttermouth, Does It Matter, The Ruins, Last Laugh [Flier]
Sept. 12
30 years of Churchill's, 30 years of punk featuring Charlie Pickett, Radiobaghdad, The Holy Terrors, The Crumbs, Tongues of the Heartworm, Nobody's Hero, 77 Swindle, Unit Six, Boy Prostitute, The Ruins, To Be Hated, Break On Through, M-66 [Flier]
Sept. 26
The Queers, The Leftovers, TA80, The ClockOuts [Flier]
Oct. 15
Teenage Bottlerocket, Cobra Skulls, The Crumbs, The Ridicules [Flier]
Oct. 29
A Wilhelm Scream, Living With Lions, The Riot Before, Break on Through [Flier]
Dec. 10
Roger Miret & The Disasters, Vinnie Stigma, Mehkago N.T., Vivalevox [Flier]

2008

Jan. 27
Manchester Orchestra, All Get Out [Flier]
March 10
Strike Anywhere, Riverboat Gamblers, Coliseum, Modern Day 84 [Flier]
May 5
The Casualties, Krum Bums, F.A.T.E., Malt Liquor Riot [Flier]
May 10
The Phenomenauts, The A.K.A.s, Maldroid, The Van Orsdels, The Pots N Pans [Flier]
July 27
Guttermouth, New Skool Kings, Johnny Sexfuk & the Fleshrockets [Flier]
Sept. 13
The Queers, The Independents, Stay Hitt, The Sleeparounds [Flier]
Sept. 13
Senses Fail, Sky Eats Airplane, Dance Gavin Dance, Foxy Shazam [Flier]
Nov. 15
Agent Orange, Laramie Dean, To Be Hated, O.P.S. [Flier]
Dec. 4
The Slackers, The Methodaires, Jacuzzi Fuzz, The Hard Richards [Flier]
Also: The Loved Ones, The Gaslight Anthem, New Mexican Disaster Squad [Flier]; Whole Wheat Bread [Flier]; Time Again; The Pink Spiders, Cruiserweight, Mondo Primo [Flier]

2007

Jan. 12
Agent Orange, Laramie Dean, The Sleeparounds, Guajiro, Modern Day 84, The Shakers, The Hooples, Chapter XI, Stay Hitt [Flier]
Jan. 16
Senses Fail, Saosin, Alexisonfire, The Sleeping [Flier]
Feb. 14
Dick Dale, Laramie Dean, Guajiro [Flier]
April 21
The Locust, Daughers, Cattle Decapitation, Yip-Yip [Flier]
April 27
Nekromantix, Time Again, The Heart Attacks, Orange [Flier]
June 20
The Casualties, A Global Threat, Time Again, Modern Day 84 [Flier]
Sept. 15
Subhumans, World/Inferno Friendship Society, Libyan Hit Squad, No Peace At All [Poster] [Flier]
Sept. 21
Bless the Fall, Lovehatehero, Before Their Eyes [Flier]
Sept. 27
Strung Out, Evergreen Terrace, I Am Ghost [Flier]
Sept. 28
The Slackers, Jacuzzi Fuzz, Mug [Flier]
Oct. 23
Voodoo Glow Skulls, Left Alone, Knockout, Modern Day 84, Music is a Weapon [Flier]
Nov. 2
Big D and the Kids Table, Whole Wheat Bread, The A.K.A.s, The Fenwicks [Flier]
Dec. 6
Nekromantix, Koffin Kats, The Chop Tops, The Van Orsdels, The Coffin Caddies [Flier]
Also: The Loved Ones , Zolof the Rock and Roll Destroyer, Anchorman, Fallen From the Sky, Protagonist, Irish Car Bomb, Jello Biafra, Against All Authority, Blowfly, Torche, Guajiro, Whole Wheat Bread, Howitzer, F.A.T.E., Pitch Black Radio, Skuff'd Shoes, Theo and the Skyscrapers, The Static Age, The Righteous Devices, Youth Brigade

2006

Jan. 8
Guttermouth, Valient Thorr, ASG, Red State Riot [Flier]
April 22
The Queers, Die Stinkin, Black Heart Radio,
Modern Day 84 [Flier]
May 6
Against All Authority, The Know How, Modern Day 84, Empty Wallet, Pitch Black Radio [Flier]
May 14
The Matches, Whole Wheat Bread, MC Lars,
Forgive Durden [Flier]
June 10
Theo and the Skyscrapers [Flier]
June 30
Clit 45, New Mexican Disaster Squad, Modern Day 84, The M.F.C. Destroyers [Flier]
July 23
The Adolescents, Street Dogs, The Vacancies [Flier]
Aug. 12
Voodoo Glow Skulls, Big D & the Kids Table, Suburban Legends, Westbound Train [Flier]
Oct. 7
Strike Anywhere, Bane, A Global Threat, This Is Hell [Flier]
Oct. 8
The Vibrators, Stay Hitt, Fashion Fashion and the Image Boys [Flier]
Oct. 24
The Casualties, The Briefs, Wednesday Night Heroes, Chapter XI [Flier]
Nov. 6
Converge, Some Girls, Modern Life is War, Gospel [Flier]
Nov. 10
The Mad Caddies, Love Equals Death, Sicker Than Others, Skuff'd Shoes [Flier]
Dec. 9
Circle Jerks, Lower Class Brats, The Ruins, Know the Score [Flier]
Dec. 16
Exene Cervenka and the Original Sinners, Knuckel Drager, Charlie Pickett, The Righteous Devices [Flier]
Dec. 29
Against All Authority, Die Stinkin, F.T.N., Pitch Black Radio, Three Beef Burritos [Flier]
Also: Time Again, Love Equals Death, The Phenomenauts, Left Alone, The Slackers

2005

Jan. 13
Strung Out, Evergreen Terrace, The Explosion, Protagonist
Feb. 20
Voodoo Glow Skulls, Streetlight Manifesto, MU330, Lithium, The Madd Agents
Feb. 25
The Starting Line, Further Seems Forever, Days Away, Jamison Parker
April 15
Fall Out Boy, Silverstein, The Academy Is, Gym Class Heroes
May 29
From First To Last, Halifax, He Is Legend
June 3
Anberlin, Saosin, Acceptence, Code Seven, Terminal
June 21
The Aquabats, The Epoxies, The Phenomenauts
June 25
Dead Kennedys, Last Great Hope, Modern Day 84
July 2
Emanuel, Circa Survive, Mashlin
Sept. 6
Against Me, The Exit, William Elliott Whitmore
Oct. 2
Streetlight Manifesto, Bedouin Soundclash,
Whole Wheat Bread
Nov. 19
The Suicide Machines, Stretch Arm Strong, Whole Wheat Bread, For Dire Life Sake
Also: The Queers, River City Rebels, Recover, Armor For Sleep, Unseen, Tsunami Bomb, Mustard Plug, The Adolescents, The HorrorPops, Roger Miret & The Disasters, Left Alone

2004

Feb. 27
Catch 22, Mustard Plug, Big D & The Kids Table, The Planet Smashers, Bum Ruckus
Feb. 29
Mae, Copeland, The Working Title, Slow Coming Day
March 27
Thrice, Poison the Well, Darkest Hour, Moments in Grace
April 23
Sugarcult, Mae, Maxeen, Time Will Tell
May 1
Rufio, Senses Fail, Autopilot Off, Don't Look Down
Aug. 26
Finch, Recover, Counterfit, First Aid Kit
Aug. 27
Long Beach Shortbus, One Draw, Last Laugh,
Last Onez Standin
Oct. 16
Senses Fail, Silverstein, Name Taken, Madison
Oct. 23
Unearth, Terror, Remembering Never, Black Dahlia Murder
Oct. 29
The Casualties, Lower Class Brats, Monster Squad,
No Peace at All
Nov. 16
Bouncing Souls, Against Me, Murphy's Law, Let It Burn, The Loved Ones [Flier]
Nov. 20
Straylight Run, Hot Rod Circuit, Northstar, Say Anything [Flier]
Also: Midtown, Against Me, The Slackers, Anberlin, Pennywise, Underoath, Eighteen Visions, Silverstein, Braid, Suicide Girls [Flier], Against All Authority, The Aquabats, The Planet Smashers, Piebald, Jealous Sound, Spitalfield, Northstar, Autopilot Off, Further Seems Forever, The Kicks, Brandtson, Salem, Emery, Brazil, Subhumans, Caustic Christ, 7 Crowns, Armor For Sleep, The Agency

2003

Feb. 7
Further Seems Forever, Elliot, The Early November,
Salem
Feb. 17
Hot Rod Circuit, The Reunion Show, Bleach, Cru Jones
Feb. 20
Something Corporate, Steel Train, Vendetta Red
Feb. 28
Sum 41, No Use For A Name, The Starting Line,
Authority Zero
March 1
Mustard Plug, Allister, Whippersnapper, The Know How, Neptune 66
April 5
The Used, Coheed and Cambria, S.T.U.N., theSTART
April 12
Subhumans, Against All Authority, The Enemies, The Code, Protagonist
April 21
Taking Back Sunday, From Autumn to Ashes, Recover, Count the Stars
April 26
Lagwagon, Yellowcard, Rufio, Irish Car Bomb
May 5
Brand New, The Early November, A Static Lullaby,
The Fight
May 31
Alkaline Trio, Pretty Girls Make Graves, Pitch Black,
Avoid One Thing
June 7
Rollins Band (Blag Flag tribute with Keith Morris), AAA, Irish Car Bomb, Protagonist, Middle Class Chaos [Flier]
July 9
Circle Jerks, GBH The Bronx, Missing 23rd
Aug. 3
La Fiesta de Punk Rock: Further Seems Forever, The Movielife, Against All Authority, Unsung Zeros, Anberlin, Autopilot Off, Cru Jones, DKLIMB, Five Cent Wish, The Groovenics, The Heatseekers, The Monjees, Pivot, Protagonist, Simplekill, Sunday Driver and Where Fear & Weapons Meet
Aug. 12
Reggie & the Full Effect, Midtown, My Chemical Romance, Senses Fail
Sept. 17
The Starting Line, Senses Fail, Homegrown, Allister,
The Early November
Oct. 14
Dropkick Murphys, The Casualties, Roger Miret & The Disasters
Oct. 15
Yellowcard, Story of the Year, Acceptence, DKLIMB
Oct. 22
Bouncing Souls, Tsunami Bomb, Strike Anywhere, Vision
Nov. 5
Saves the Day, Taking Back Sunday, Moneen
Nov. 6
Brand New, Hot Rod Circuit, Eisley
Nov. 12
Thursday, Thrice, Coheed and Cambria
Nov. 16
Alkaline Trio, Reggie & The Full Effect, From Autumn to Ashes, No Motiv
Dec. 7
Anti-Flag, Rise Against, Against Me, None More Black, Tabula Rasa
Also: Unsung Zeros, Most Precious Blood, Frank Black & the Catholics, The Slackers, The Agency, Ministry, The Haunted, Senses Fail, Northstar, Elliot, Darkest Hour, Death By Stereo, Rx Bandits, No Motiv, Fairweather, Locale A.M., Shai Hulud, Rise Against, Avenged Sevenfold, Mae, Armor For Sleep, Rufio, Catch 22, Atmosphere, Stickshift Lover, Against All Authority

2002

Jan. 25
Suicide Machines, Catch 22, Bum Ruckus
Feb. 15
Unwritten Law, Sugarcult, Standstill
Feb. 20
H2O, Bigwig, Avoid One Thing
March 7
NOFX, The Mad Caddies, Frenzal Rhomb, Inspection 12
March 26
Poison The Well, American Nightmare, 18 Visions
April 4
Millencolin, Homegrown, Bombshell Rocks
April 5
Further Seems Forever, Hot Rod Circuit, Stretching FM
April 11
Hatebreed, Converge, God Forbid, Stalemate, Vietnom
April 12
Bouncing Souls, Hot Water Music, The Pietasters
April 13
The Toasters, Corky, Bum Ruckus, Time Will Tell
April 17
Dashboard Confessional, The Anniversary, Seafood, The Remedy Session
April 25
Face To Face, Midtown, The Movielife, Thrice, 32forty
May 11
Slayer, Hatebreed, Diecast, Fifth Gear, Cyst
May 30
Strung Out, Glasseater, Rise Against, Rufio
June 6
Thrice, Recover, The Young & The Useless
June 25
The Get Up Kids, Superchunk, Hot Rod Circuit
Sept. 14
Suicide Machines, Glasseater, Mr. Varsity, Time Will Tell
Sept. 28
Further Seems Forever, As Friends Rust, Element 101
Oct. 13
Midtown, Recover, The Reunion Show, Poly Ester
Oct. 16
No Use For A Name, Yellowcard, Eyeliners, Slick Shoes
Oct. 22
Guided By Voices, Superdrag
Nov. 13
New Found Glory, Finch, Further Seems Forever, Something Corporate [Flier]
Nov. 14
Saves the Day, Ash, Kind of Like Spitting, Circle & Square
Nov. 20
Guttermouth, Nerf Herder, Authority Zero, 1208
Nov. 29
The Ataris, Sugarcult, Autopilot Off, Rufio
Dec. 7
The Starting Line, Taking Back Sunday, The Reunion Show, Northstar
Also: The Queers, The Independents, Unsung Zeros, Hey Mercedes, Koufax, Against All Authority, Glasseater, Eighteen Visions, The Weakerthans, Snapcase, Boy Sets Fire, Autopilot Off, Atreyu, Piebald, Ted Leo / Pharmacists, Koufax

2001

Jan. 25
Avail, Ann Beretta, Strike Anywhere
Feb. 8
The Queers, The Independents, Dynamite Boy
March 25
Dropkick Murphys, Swingin' Utters, Lars Frederiksen & the Bastards, Reach the Sky
April 7
Rocket From The Crypt, The (International) Noise Conspiracy, The Explosion
May 9
Sick Of It All, Boy Sets Fire, Death By Stereo
May 16
Guttermouth, Fenix TX, U.S. Bombs, Deviates
May 27
La Fiesta de Punk Rock: Against All Authority, Irish Car Bomb, Anchorman, Glasseater, Bum Ruckus, Protagonist, Pointless, Used Goods
Aug. 30
Saves the Day, Dashboard Confessional, No Motiv,
Hey Mercedes
Sept. 25
The Donnas, The Eyeliners, The Kicks, All is Well [Flier]
Sept. 28
Freedom Fest 2: The Vacant Andys, The Rocking Horse Winner, Pygmy, Five Cent Wish, Protagonist, Bum Ruckus, Standstill, many more
Sept. 29
Glasseater, The Livid Kittens, What Wishes Can't Mend, Baby Robots, Trapped By Mormons, Mary Tyler Whores, many more [Flier]
Oct. 22
New Found Glory, H2O, Rx Bandits
Oct. 26
The Anniversary, Superdrag, Mates of State
Nov. 10
The Genitorturers
Dec. 7
Sick of It All, Shai Hulud, Glasseater
Dec. 11
Dashboard Confessional, Further Seems Forever,
The Rocking Horse Winner, Seville

2000

Jan. 18
Fugazi, Faraquet
Jan. 28
Dropkick Murphys, Toe To Toe, Tommy and the Terrors,
The Hudson Falcons
Feb. 3
Snapcase, Saves the Day, Buried Alive
Further Seems Forever
March 3
Cro-mags, All Out War, Shutdown
Where Fear and Weapons Meet
March 21
Suicide Machines, Snuff, The Pilfers
March 25
Millencolin, Ten Foot Pole, Vision, Osker
April 13
No Use For A Name, Good Riddance, The Mad Caddies, The Ataris
April 20
H2O, Saves the Day, Where Fear and Weapons Meet
June 4
La Fiesta de Punk Rock: Against All Authority,
New Found Glory, The Agency, The Crumbs, Foolproof, The Come Ons [Poster1] | [Poster2]
July 13
Strung Out, Straight Faced, Whippersnapper
July 21
Guttermouth, 98 Mute, The Carnies, Just Like You
Oct. 12
No Use For A Name, Homegrown, One Man Army
Oct. 14
7 Seconds, Against All Authority, Welt
Oct. 21
Bouncing Souls, Youth Brigade, Mustard Plug, Inspecter 7
Nov. 17
A.F.I., Until the End, Protagonist
Also: Snapcase, Boy Sets Fire, CKY, Death By Stereo, Hatebreed, One King Down, No Innocent Victim, Dynamite Boy

1999

Feb. 18
Guttermouth, Welt, The Outrights
March 13
Lagwagon, Bouncing Souls, The Commercials
March 18
MxPx, Shades Apart, Squad 5-O, A Newfound Glory
March 26
Dropkick Murphys, Oxymoron, The Ducky Boys, The Cuffs
May 8
Unwritten Law, Shades Apart, Blue Meanies
Nov. 4
Sick Of It All, A.F.I., Hot Water Music, Indecision
Nov. 26
Bouncing Souls, H2O, The Casualties, Vision
Dec. 30
South Florida Slammie Awards: Crease, Groovenics, Further Seems Forever, Darwin's Waiting Room, Lost, Collapsing Lungs
Also: Sprung Monkey, G.B.H., Strung Out, Assorted Jellybeans, Dance Hall Crashers, No Use For A Name, Limp

1998

April 4
Lagwagon, Armchair Martian, Madcap
May 4
Earth Crisis, Madball, Hatebreed
June 19
Unwritten Law, The Agency, Piller
July 29
MxPx, World Vs. World, Divine Child
Oct. 10
Blink 182, Unwritten Law
Oct. 17
Avail, Suicide Machines, Quit
Dec. 17
South Florida Slammie Awards: Puya, Load, Quit, Nonpoint, Endo, Gonemad, Creative Pain
Also: Consolidated, Stuck Mojo, Sebastian Bach, Modern English, Magadog, Econoline Crush, Psychotica, Jack Off Jill, Strung Out, A.F.I., Good Riddance

1997

Jan. 9
Guttermouth, Assorted Jellybeans, The Crumbs, Discount
Jan. 15
Earth Crisis, V.O.D., Strongarm
March 5
Sick Of It All, Good Riddance, Ensign
Sept. 12
Lagwagon, No Use For A Name, Limp, Shyster
Sept. 13
South Florida Slammie Awards: Strongarm, Shai Hulud, King 7 and the Soulsonics, Brutal Mastication, Cavity, The Groovenics
Oct. 3
Guttermouth, Ten Foot Pole, One Hit Wonder
Oct. 8
Machine Head, Snot
Oct. 31
Genitorturers, Nation Of Fear
Nov. 13
Agnostic Front, Vision, Strongarm, Grasspatch
Nov. 14
Pennywise, Murphy's Law, 98 Mute
Nov. 22
Deftones, Far, Will Haven
Also: Grip Inc., Bloodlet, Coal Chamber, Cause For Alarm, Shai Hulud, Exodus, Skinlab, The Selecter, Sister Machine Gun

1996

Feb. 5
Marilyn Manson, Wicker Man
March 9
Iron Maiden, Fear Factory
April 8
Deftones, Sacred Reich, Fu Manchu, Limp Bizkit
May 11
Goldfinger, Sprung Monkey, Almighty Ultrasound
June 4
Blink 182, Unwritten Law, Vacant Andys
June 9
Genitorturers, Gravetree, Inch High Allah
June 23
South Florida Slammie Awards: Biohazard, D.F.L., Radiobaghdad, Subliminal Criminal, Brethren, Nonpoint, Level 9
Dec. 15
Unwritten Law, 22 Jacks, Hudson, Milkshed
Also: Stuck Mojo, Morbid Angel, Six Feet Under, Bonham, Cannibal Corpse, Kreator, Pro-Pain, Overkill, The Toasters, The Wailers, Yellowman, MU330, Clutch, Orange 9mm, Lucy's Fur Coat, Rhythm Collision, Sprung Monkey, Madball, Deicide

1995

Feb. 4
Downset, Madball, Dog Eat Dog
July 3
South Florida Slammie Awards: Genitorturers, L.U.N.G.S., Anger, Strongarm, Puya, Smite
Aug. 25
Megadeth, Korn, Fear Factory, Flotsam and Jetsam
Oct. 19
The Toasters, The Allstonians, The Jive Step Bunch
Oct. 20
Pennywise, The Joykiller, Quit
Oct. 28
KMFDM, Genitorturers, God Lives Underwater
Nov. 1
7 Seconds, Unwritten Law, Blink 182, Sprung Monkey
Nov. 10
Dance Hall Crashers, Waterdog
Nov. 14
Machine Head, Stuck Mojo, Paingod, Amboog-A-Lard
Nov. 22
Ace Frehley, Peter Criss
Nov. 30
GWAR, Brutal Juice, Core Chaotic
Dec. 2
Korn, Machines Of Loving Grace [Flier]
Dec. 21
Genitorturers, Nation Of Fear, Notch Above Kafka
Also: Fight, Monster Voodoo Machine, Morbid Angel

1994

July 3
South Florida Slammie Awards: Marilyn Manson, Raped Ape, Load, Jack Off Jill, Holy Terrors, Tension
Aug. 20
Carcass, Life of Agony, Monster Voodoo Machine
Raped Ape
Oct. 31
Pro-Pain, M.O.D., Raped Ape, Junkwaffle
Also: Overkill, 7 Seconds, Sick Of It All

1992-1993

South Florida Slammie Awards I and II plus dozens of local shows
---
Many thanks to our current and former partners and associates over the years: Allan Bowron and Respectable Street, Churchill's Pub, Nayra Serrano and Idle Hands Productions, Christie White and The Hukilau, Steve Rullman (PureHoney Magazine, The Honeycomb), Robbie Gregory and Big Cat Productions, Alex Kenney and On Fire Booking, John O'Connor and Chaos Sound, Grant Hall Presents, Mike Hooker and Low Fidelity Events, Studio A, AKT Entertainment, Tom Bowker, Bob Slade, Chaos Productions, Tom Berman, Fat Harry Productions, Live Nation (Clear Channel, Cellar Door), Fantasma Productions, and anyone else we may be forgetting.


Slammie concerts
DICK DALE, 1937-2019
The rock 'n' roll legend dubbed 'King of the Surf Guitar' has died at age 81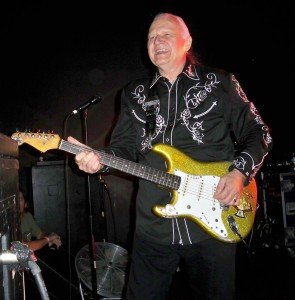 Slammie Productions had the pleasure of booking and promoting six of Dick Dale's South Florida concerts over the last decade of his career. It was truly an honor. He will be missed. Go to The Atomic Grog blog for links to all of our stories, including exclusive photos and a rare interview.



The Adolescents at Respectable Street in West Palm Beach on Jan. 7, 2011. (See photos)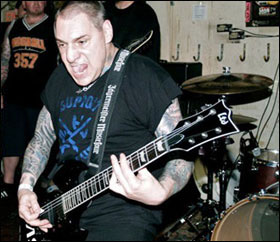 Agnostic Front at Churchill's in Miami
on May 14, 2010. (See photos)



30 Years of Punk at Churchill's in Miami
on Sept. 12, 2009, featuring Charlie Pickett,
12 more bands. (See photos)



The Subhumans at Studio A in Miami
on Sept. 15, 2007. (See photos)



Senses Fail at The Mojo Room in Port St. Lucie
on Jan. 16, 2007. (See photos)



Strike Anywhere at Respectable Street in West Palm Beach on Oct. 7, 2006. (See photos)



Street Dogs at Maguires Hill 16 in Fort Lauderdale on July 23, 2006. (See photos)



Guttermouth plays at Respectable Street in West Palm Beach on Jan. 8, 2006. (See photos)



Photo by Steve Rullman / TheHoneycomb.com
Streetlight Manifesto plays at Respectable Street on Oct. 2, 2005. (See photos)



Fall Out Boy at The Factory in Fort Lauderdale
on April 15, 2005. (See photos)

The Starting Line at The Factory on Feb. 25, 2005.
(See photos)

Catch 22 (above) and Mustard Plug (below)
at The Factory in Fort Lauderdale on Feb. 27, 2004.
(See photos)


Anti-Flag at The Factory on Dec. 7, 2003. (See photos)


Taking Back Sunday and Saves the Day
at Club Ovation on Nov. 5, 2003.
(See photos)

Reggie and the Full Effect at The Factory
in Fort Lauderdale on Aug. 12, 2003. (See photos)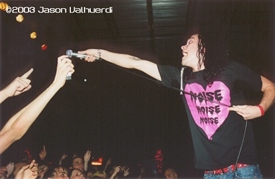 Photos by Jason Valhuerdi
The Used at Club Ovation,
Boynton Beach, on April 5, 2003. (See photos)

New Found Glory at the Coral
Springs Sportsplex, Nov. 13, 2002. (See photos)

Slayer at Club Ovation,
Boynton Beach, May 11, 2002. (See photos)
La Fiesta De Punk Rock

Against All Authority at The Chili Pepper,
Fort Lauderdale, May 27, 2001
(See photos)
Freedom Fest

The Vacant Andys at Orbit Nightclub,
Boynton Beach, Sept. 28, 2001
(See photos)
South Florida Slammie Awards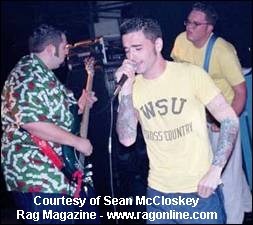 Further Seems Forever at Fu-Bar, Fort Lauderdale, Dec. 30, 1999. (See photos)

Puya at Fu-Bar, Fort
Lauderdale, Dec. 17, 1998
(See photos)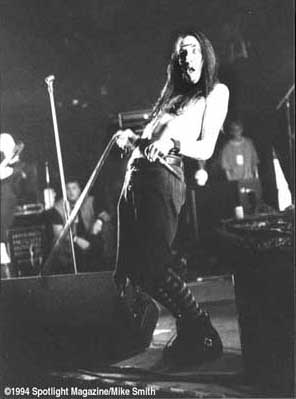 Marilyn Manson at The Edge,
Fort Lauderdale, July 3, 1994
(See photos)