Classic Florida metal!


Celebrating the 20th anniversary of Terminal Reality in 2013, this two-disc collection features 29 songs and seven videos spanning the band's entire run from 1988 to 1996, plus a 16-page booklet full of vintage photos and artwork, exclusively from Divebomb Records.

Land of Broken Promises

This crushing collection from seminal Florida underground heroes Raped Ape is a special limited-edition double disc package featuring 29 songs and seven video clips spanning the band's entire run, from 1988 to 1996. It celebrates the 20th anniversary of the acclaimed Terminal Reality EP, the only previous CD released under the Raped Ape name.

Land of Broken Promises includes Terminal Reality plus four of the band's classic demo tape recordings - Perpetual Aggravation (1990), Lost In Mind (1991), Raped Ape (1994), and Paingod (1995). The enhanced second disc also features seven live videos of the band tearing up stages in South Florida during their heyday.

Terminal Reality was produced by the band and noted metal producer Scott Burns and recorded at Morrisound Recording in Tampa, the epicenter of the Florida metal scene in the 1990s. Out of print for nearly two decades, Terminal and the rest the band's catalog has been meticulously re-mastered by Jamie King for reissue label Divebomb Records. Along with an extensive booklet stuffed with photos, artwork and flyers that chronicle the band's long history, this is a one-of-a-kind collection for fans of underground metal's golden age.

More on RapedApe.net
• Latest news and updates on the CD
• Track listing, lyrics, liner notes
First live performance
in more than 16 years!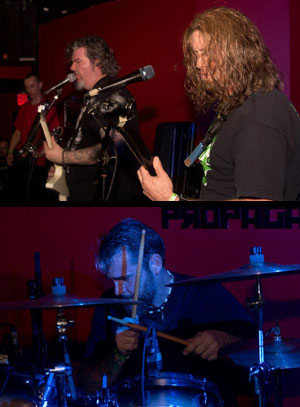 Mighty South Florida metal band Raped Ape roared back to life for the first time in more than 16 years on Sunday, March 10, 2013, with a ferocious reunion show celebrating the release of a career-spanning 29-song CD collection that was released worldwide on March 12.

The reunited Raped Ape performed a short set of some of its classic songs at the end of an action-packed concert that drew more than 200 people to Propaganda in Lake Worth and also featured the band members' current groups: Ferocious Stones, JP Soars & The Red Hots and The Mobile Homies.

• Photos, video, full recap of the show

Videos: Now and then • See more videos on YouTube