NEWS
The latest updates from Raped Ape. Check the Facebook page for breaking news.
Band members'
current projects

Ferocious Stones
Ferocious Stones is a "Turbo-Charged Supergroup" from Lake Worth featuring former Raped Ape members Mike "Pooch" Pucciarelli (guitar) and JC Dwyer (drums). The band also now includes one-time R.A. vocalist Jimmy Kelly along with guitarist Rick Bentley and bassist Dylan Dwyer (JC's brother). The band's music sounds like a UFO crashed at the same site as Lynyrd Skynyrd's plane, and the souls of the departed put together a band.

JP Soars & The Red Hots
Winner of the 2009 International Blues Challenge, JP Soars & The Red Hots are a fixture on the South Florida and national blues scenes. The band's albums (Back of My Mind in 2008 and More Bees with Honey in 2011) receive airplay across the country, with the current album named "second coolest CD of the year" by Little Steven and his Underground Garage. It also earned Soars a Blues Music Award nomination for Best Contemporary Male Blues Artist of the year

The Mobile Homies
South Florida's "Dukes of Hap-Hazzard," The Mobile Homies are a kickass, rag-tag Country outfit fronted by guitarist/singer Jimmy Kelly and guitarist/singer JC Dwyer, both Raped Ape alumni. Also featuring Becky Osborne-Phillips (vocals and washboard), Adam Phillips (mandolin and lap steele guitar), and Pete Carmichael (upright bass), the group recently emerged from the studio with slew of rockin' Country tunes due for release in the near future. And be sure to look for 'em performing at yer local waterin' hole.
CD release party features first Raped Ape performance in 16 years
Mighty South Florida metal band Raped Ape roared back to life for the first time in more than 16 years on Sunday, March 10, with a ferocious reunion show celebrating the release of a career-spanning 29-song CD collection that was released worldwide on March 12.
The reunited Raped Ape performed a short set of some of its classic songs at the end of an action-packed concert that drew more than 200 people to Propaganda in Lake Worth and also featured the band members' current groups: Ferocious Stones, JP Soars & The Red Hots and The Mobile Homies.
The band's core members - Mike "Pooch" Pucciarelli (guitar, vocals), JC Dwyer (drums) and John Paul Soars (guitar, vocals) were joined on bass by Ferocious Stones guitarist Rick Bentley, a longtime friend and fan of Raped Ape. Land of Broken Promises CDs were made available early to the local fans and sold briskly, along with custom "2013 reunion" T-shirts.
The club was still mobbed well after midnight when the reunited Raped Ape shook the rafters, opening with their über-heavy intro that led into the 25-year-old classic, The Krusher. Despite only four practices after not playing the songs for nearly 17 years, the group's inherent tightness and energy returned immediately. And it was obvious from the uncharacteristic smiles that they were having a good time.
More on RapedApe.net: Photos, video, full recap of the show
---
CD release party will feature first Raped Ape performance in 16 years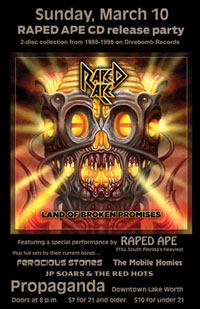 This will be one for the history books, featuring Pooch, JP and JC's current bands: Ferocious Stones, JP Soars & The Red Hots and The Mobile Homies. Plus, while not billed as a full-on reunion, the night will end with a short set of classics from South Florida's Heaviest, RAPED APE! It will be held on March 10, 2013, at Propaganda in Lake Worth.
Land of Broken Promises CDs will be available at this show for just $15 (cash only), two days before they go on sale worldwide. The CD will be played on the sound system throughout the night. Doors open at 8. Tickets are $7 for ages 21 and older, $10 for under 21.
During its run from 1988 to 1996, Raped Ape tore up stages from Atlanta to Miami, becoming one of the most respected bands in the Florida metal scene. The band shared the stage with some of the biggest names in underground metal, including Sepultura, Biohazard, Carcass, Coroner, Death, Entombed, M.O.D., Morbid Angel, Machine Head and many more. Their live shows were legendary, the band's intense on-stage energy matched by their fans in the mosh pit
This show will mark the first time Pooch, JC and JP have performed Raped Ape songs together since the band split nearly 17 years ago. Stepping in on bass is Ferocious Stones guitarist Rick Bentley, a longtime friend and fan of Raped Ape.
---
Career-spanning CD Land of Broken Promises to be released March 12, 2013
This crushing collection from seminal Florida underground heroes Raped Ape is a special limited-edition double disc package featuring 28 songs and seven video clips spanning the band's entire run, from 1988 to 1996. It celebrates the 20th anniversary of the acclaimed Terminal Reality EP, the only previous CD released under the Raped Ape name.
Land of Broken Promises includes Terminal Reality plus four of the band's classic demo tape recordings - Perpetual Aggravation (1990), Lost In Mind (1991), Raped Ape (1994), and Paingod (1995). The enhanced second disc also features seven live videos of the band tearing up stages in South Florida during their heyday.
Terminal Reality was produced by the band and noted metal producer Scott Burns and recorded at Morrisound Recording in Tampa, the epicenter of the Florida metal scene in the 1990s. Out of print for nearly two decades, Terminal and the rest the band's catalog has been meticulously re-mastered by Jamie King for reissue label Divebomb Records. Along with an extensive booklet stuffed with photos, artwork and flyers that chronicle the band's long history, this is a one-of-a-kind collection for fans of underground metal's golden age.
The CD will be made available to retail outlets worldwide on March 12 through Independent Label Distribution and will also be on sale online in the Divebomb/Tribunal Records store. You will also find it in the usual download services (iTunes, Amazon). Divebomb is also offering a free download of the title track, Land of Broken Promises, as part of its fifth-anniversary collection.
More on RapedApe.net: Track listing and details on Land of Broken Promises