PRESS
2013 RELEASE, REUNION
• New Times, Broward/Palm Beach, Feb. 27:
"If you grew up in Florida in the '90s, phrases like 'Dead German Tourists' and 'Raped Ape' were not everyday happenstances; they were bands. And we fucking loved them." [See the article]
A selection of the press the band received back in the day:
NATIONAL MAGAZINES
• Details, March 1995:
"Every corner of the world has musicians who want to turn the notion of good taste upside down, but Florida has been cultivating its own particularly putrid strain. ... Ground zero for this cultural terrorism is death metal, a strange homegrown strain of deliberately brutal thrash metal which has blossomed into a scene of bands competing to outdo each other in repulsiveness: bands with names like Deicide, Atheist, Cannibal Corpse, Malevolent Creation and Raped Ape."
• Guitar World, July 1994:
"Precision riffing, tight 'n' tough, with plenty of meaty pulp. Raped Ape could very well be the gorilla of my dreams (3 1/2 stars)."
• Terrorizer (U.K.), December 1993:
"One of the finest self-financed projects on the market. The band themselves are an intense and totally proficient thrash metal act, with death and hardcore influences. ... This is better than most of Morrisound's output, giving the band their own individuality. For a self-financed piece of work, this is as good as it gets."
• Metal Maniacs, August 1993:
"One of the most impressive demo recordings in recent memory, a six-song affair produced by the king of extra-cheese himself, Scott Burns. Boasting a thick, crunchy sound not dissimilar to that of Exhorder, the quartet's latest release is a riffy, power-laden offering that is executed with an unusual dose of professionalism, from the songwriting to the actual instrumentation, which is on par with that of most signed groups. Although Raped Ape can in no way, shape or form be called a 'death metal' act, their overall sound packs enough punch to put most d.m. bands to shame, such is the intensity and sheer ferocity of the Florida group's delivery." (See the full article)
Metal Maniacs, August 1991:
"A very professional and mature group. ... A tight, musically-proficient bunch who have the ability to develop into one of the contenders."
• RIP, April 1991:
"Raped Ape stole the show at the annual Miami Rocks Too showcase. If you don't know about this band, you ought to." (See the full article)
• Billboard, Feb. 23, 1991
At Miami Rocks Too "crowd-pleasing 35-minute shows were turned in by Utrec, the Wait, Forget the Name and The Mavericks, the latter an electrifying country quartet that was the only non-rock act on the showcase bill. But a random survey of A&R onlookers, entertainment attorneys and publishers in attendance found Raped Ape, Vandal and Coral Gables also gaining highly favorable reaction." (See the full article)
• Metal Forces (U.K.):
"Perpetual Aggravation is a bona fide ripper ... Catchy, crunchy and pretty darned heavy."
FLORIDA
• Florida Xposure Magazine:
"One of the most controversial names in Florida metal, and one of the most successful bands, Raped Ape can look back on their hard won victories with satisfaction. They never gave up on their fans." (See the full article)
• Jam, Sept. 17, 1993:
Terminal Reality "takes the band to the next level - the disc's presentation visually equal to any major label release. ... The production, songwriting and execution are all on just enough of the edge to be appealing to hardcore listeners and just enough on the road to accessibility to appeal to what could prove to be a much larger fan base. ... The production is excellent, technically and artistically. But then I expect this from Raped Ape and Morrisound."
• The Miami Herald, Nov. 30, 1992:
At the South Florida Rock Awards, "the first band to wake the crowd from its stupor was Raped Ape, a winner of the Best Thrash Band category. Featuring guttural roars from its hefty and hairy lead singer, Raped Ape sustained its megawatt energy throughout a tight and frenetic set."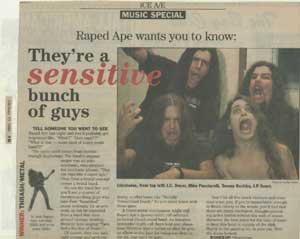 • Ice, September 1993:
"Listen closely to the words and you'll find that there are many intelligent, thought-provoking lyrics hidden behind this wall of sound. However, the best place for the faint of heart to hear this band is outside the club. Maybe in the parking lot. In your car. With the doors locked." (See the full article)
• South Florida Music News:
"The band's instrumental skills are best appreciated by stripping away the singing, as in the appropriately titled Return to Nothing, a surprisingly complex musical brew that shows off a keen sense of dynamics. For the most part, however, this Ape's untamed and probably insane. Primitive cool."
• Jam, Jan. 10, 1992:
"All the hallmarks of good thrash metal ... involuntary stomping of the feet and bobbing of the head tend to be side effects of listening to this, unless you're in the pit, in which case you'll be moshing."
• Fort Lauderdale Sun-Sentinel, July 5, 1991:
"The group's revved-up music is catchy and varied and the socio-political lyrics are lucid, if not blunt. ... Perhaps more impressive, however, are the band's live shows. Their opening set for Wrathchild America on June 26 at Summers on the Beach showcased the group's tight musicianship and powerful stage presence." (See the full article)
• The Palm Beach Post, April 7, 1991:
"The music may be brutal and unrelenting but the musicianship is impressive."
• Fort Lauderdale Sun-Sentinel, Feb. 15, 1991:
"Lots of action in town recently as seven major record labels swooped in to catch young bands at the third annual Miami Rocks Too. Hallandale's Button South was packed for the three-night showcase, featuring talent scouts from Atlantic Records, Chrysalis, Island and others. Even labels not on hand requested material on hot local artists. Geffen Records wants to know more about my favorite band - the one with the name so vulgar, I can't bring myself to print it." (See the full article)
• Beachcomber, Dec. 3, 1990:
"It is refreshing to see people willing to work toward the improvement of society. Raped Ape is definitely an eye-opening influence on the audience."
• Fla. Rocks, September 1990:
"If you like thrash, these guys are for you. With powerful lead and rhythm guitars and definite conviction, Raped Ape come out blazing and end the same way. I must emphasize that these guys, this band, is TIGHT. Note: These guys are not for the faint of heart."
UNDERGROUND
• Into the Void:
"In a word - incredible! ... I would rate this release (Terminal Reality) as one of the best tapes I've ever heard. ... The music is brutal, aggressive and heavy as hell, while the vocals remind me of a cross between Max from Sepultura and Tommy from Prong. ... It has my highest possible recommendation."
• Nocturnal Empire:
"They blow away most major label bands. I still can't believe they're not yet signed, especially after Terminal Reality, one of the best underground thrash tapes of 1993. ... If there is any justice in the world then Raped Ape should be signed to any label they want."
• Il Literature:
"Never giving up or giving in is Florida's Raped Ape and rightfully so. ... Far heavier and more deathly than past efforts, Terminal Reality - one of Scott Burns' better produced affairs - is a must get."
• Inner Source:
"By far one of the best bands I have heard lately. ... I love the vocals and production on this (Terminal Reality). These guys show true musicianship. Everyone should have this."
• DBN:
"Raped Ape combines the best elements of grind, death and thrash core to produce a release of sheer power and intensity."
• Clawmarks Fanzine:
"This is the shit right here. When I hear a great release like this, it just reinforces my beliefs in bands that plan and write from the gut. ... Tight as hell and pro, feverish playing throughout. Intense! Not to be missed."
• Mortified Necrosity:
"Heavy, loud power thrash with much conviction and tons of energy. You can sometimes smell the sweat."
• Wasteland:
"These guys kick ass! ...They get their message across great with angst and aggression that keeps you going. ... These guys should be the apple in every label's eye but they're all blind to the phenomena."
• No Glam Fags:
"It's the rhythmic creativity that makes the group stand on its own. Most bands that are this progressive can't keep the heaviness. Not a problem for these guys."
• Subterranean Voice:
"Great name, great tape, great concept. I've gone apeshit over it. ... One of the hottest, keep 'em honest thrash bands in the world today."
• Abyss:
"The best band out of Florida ever ... They will probably be signed by the time you read this."
• Skullcrusher:
"This demo is excellent, the production is crystal clear, album quality. ... This is the kind of demo that gets record deals. Great job dudes! Get this demo now!"
• Purulence Fanzine:
"Raped Ape have to be the best thrash band in all of Florida! No joke, they are great, they are super talented and they play some very heavy thrash."