2013 REUNION
First live performance in more than 16 years!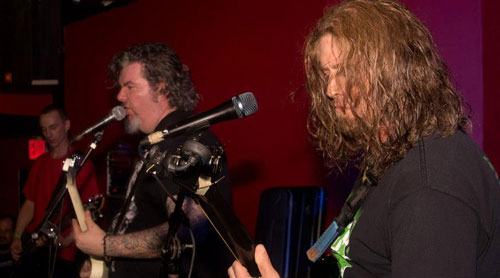 • Click to see more photos

Mighty South Florida metal band Raped Ape roared back to life for the first time in more than 16 years on Sunday, March 10, with a ferocious reunion show celebrating the release of a career-spanning 29-song CD collection that was released worldwide on March 12.

The reunited Raped Ape performed a short set of some of its classic songs at the end of an action-packed concert that drew more than 200 people to Propaganda in Lake Worth and also featured the band members' current groups: Ferocious Stones, JP Soars & The Red Hots and The Mobile Homies.

The band's core members - Mike "Pooch" Pucciarelli (guitar, vocals), JC Dwyer (drums) and John Paul Soars (guitar, vocals) were joined on bass by Ferocious Stones guitarist Rick Bentley, a longtime friend and fan of Raped Ape. Land of Broken Promises CDs were made available early to the local fans and sold briskly, along with custom "2013 reunion" T-shirts.


• See more videos on YouTube

The club was packed early when JC - on guitar and vocals - led the Homies through a set or rockin' honky-tonk tunes from the band's upcoming CD release. A rousing cover of Motorhead's Killed By Death got the crowd singing along. JP then played a scorching set of originals and select covers while exposing the audience to his beloved traditional blues.

Ferocious Stones then set the stage for the long-awaited reunion with a booming set of retro, doomy metal. With JC on drums, Pooch on vocals and former Raped Ape vocalist Jimmy Kelly playing his first show with the band, the energy level reached its peak on a cover of Black Sabbath's War Pigs.

The club was still mobbed well after midnight when the reunited Raped Ape shook the rafters, opening with their über-heavy intro that led into the 25-year-old classic, The Krusher. Despite only four practices after not playing the songs for nearly 17 years, the group's inherent tightness and energy returned immediately. And it was obvious from the uncharacteristic smiles that they were having a good time.

As the boisterous crowd responded with a vicious mosh pit, the band launched into Land of Broken Promises and Victim of the Game from its classic Terminal Reality release. It was as if the clocks turned back 20 years, the band's grooves and technical flourishes still in perfect sync, and the sound as heavy as ever.

Raped Ape then tore through Circle of Blood, another classic that dates back to its breakthrough 1990 demo Perpetual Aggravation. Pausing to thank the fans for their enduring support, Raped Ape closed with Black Sabbath's Into the Void, with former vocalist Kelly joining the band while they continued to jam on classic Led Zeppelin riffs and left the crowd screaming for more.

The encore featured the band's traditional transformation into the "Drooling Pigdogs," with Pooch taking over on drums and JC assuming lead vocal duties on the rousing Wastoid. With promises to perform again, perhaps as early as summer, the band left the stage to an appreciative ovation after a successful reunion, an idea that seemed far-fetched even six months ago.

When the Land of Broken Promises reissue was being put together with Divebomb Records, Pooch, JC and JP settled on the idea of a CD release party featuring their current bands. But with the anticipation for the CD building, they figured "why not?" and got together to jam for the first time in over 16 years. The chemistry was so strong, they quickly pulled together the short set of classics to perform on March 10 and have tentative plans to do it again.

The reunion was a long time coming. Immediately after parting ways in 1996, the three musicians dove into separate projects, only occasionally crossing paths and jamming together in pairs in various bands.

Pooch has kept his hand in music in several bands over the past 15 years, but his career as a tattoo and fine artist keep him busy. His Altered State Tattoo shop in Lake Worth has thrived and made him one of the most in-demand artists. His surreal paintings have been shown in galleries across the country.

JP went from Raped Ape to some of death metal's biggest names (Malevolent Creation, Divine Empire) before gravitating toward his true musical passion, the blues. Over the past decade, he has become one of the rising young guns of the blues scene, touring the country and winning numerous awards. JP Soars & The Red Hots is getting glowing reviews for their latest album, More Bees with Honey.

JC has also spent his post-Raped Ape years expanding his musical horizons, playing drums in national and international touring bands such as Pro-Pain and his current gig with Germany's Stephan Weidner, with whom he earned a gold record. When he's not on the road, JC is involved in a variety of South Florida projects on both drums and guitar/vocals, including Ferocious Stones and The Mobile Homies.

Check here or the updates page for the latest news on Raped Ape and the members' various projects.